We depend on your support to HOLD TENNESSEE ACCOUNTABLE.
Chip in a few bucks if you can. 
(now on SQUARE or CASH APP: $TNHoller)
"SELF-GOVERNANCE IS AT STAKE"
The special committee about the January 6th insurrection is happening now, and it is extremely powerful. Anyone trying to downplay what happened that day is complicit. The cover-up is part of the insurrection.
Some highlights: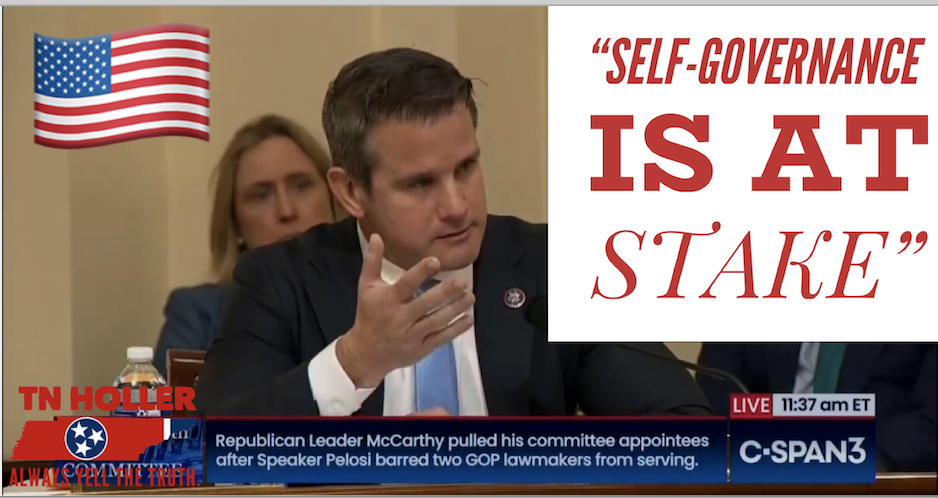 REP. SCHIFF: "When you were racially attacked, you asked if this is America. Is it?" OFFICER DUNN: "If you look at our history… I guess it is. But that's not the side we represent. We represent decency."
SGT. GONELL: "My time, compared to Iraq, totally different… This is our own citizens, people who we've sworn an oath to protect, yet they are attacking us with the same flag they claim to represent." #jan6thcommittee
OFFICER FANONE: "They tortured me. They beat me… and they continued to do so until I yelled out that i had kids… it's believed I was unconscious for 4 minutes…The indifference shown to my colleagues is disgraceful! —- Nothing has prepared me to address those elected members of our government who continue to deny the events of that day and betray their oath of office." #January6thCommittee " #January6thCommission

.
Rep. Kinzinger, a Republican, crying: "You guys won. You held. Democracies are not defined by our bad days, but how we come back from bad days. How we take responsibility for it… many in my party have treated this as just another partisan fight- SELF-GOVERNANCE IS AT STAKE."
It's clear why Republicans tried to stop this committee from happening. These recounts of what happened that day by these officers are incredibly powerful. Eternal shame on Trump and everyone who helped enable this. What you're doing is the opposite of patriotism.
If you like what we're doing, please consider becoming a monthly supporter  – your support truly keeps us going. No monthly amount is too small.
THE HOLLER
Interested in sponsoring? Message us or email: 

[email protected]



TODAY'S HOLLER:
MOUNT JULIET GRIFTER *PASTOR* LOCKE:
 "Don't believe this Delta Variant nonsense" – 
says if anyone shows up to church wearing a mask he'll kick them out. 
Cases are spiking in Tennessee, almost all hospitalizations are among the unvaccinated. 

 (He recently had a church member, a musician who believed his garbage, die of COVID)
BALLAD SCREW-UP: In JOHNSON CITY, "Ballad Health sent letters to ~100 patients stating they may have been exposed the hepatitis A, hepatitis B, or HIV… occurred during a "medication incident' involving "a single nurse."

  IN OUR INBOX: One person's 72yo father with cancer went in for a transfusion after a car accident and got this letter. 

"COLORED PEOPLE"?: Discussing CRT, Williamson County Moms for Liberty Chair Robin Steenman refers to non-white kids as "colored kids" on Marsha Blackburn's show, with zero pushback from Marsha. She called teachers "brainwashing assholes", equated diversity efforts with the Holocaust.

PSAKI NAME-CHECKS VALENTINE: "We don't want that to be the breaking point for anyone." —- PSAKI references Tennessee conservative radio host PHIL VALENTINE, who had an epiphany about the vaccine once he was in the hospital "fighting for his life" (after mocking the vaccine with a parody song) 

TUCKER CONFRONTED IN MONTANA: "You are the worst human being known to mankind… What you have done to 
… to people's families…" – Local Montana fly-fishing guide Dan Bailey confronts Tucker Carlson. #Hero

FLYNN'S THREAT:  "Maybe I'll find somebody in Washington D.C…" – Trump's now-pardoned former National Security Advisor General Michael Flynn *jokes* about assassination at the "Church of Glad Tidings" in Yuba City, CA as he gets a semi-automatic rifle. 

MASKLESS MARSHA: Marsha Spotted maskless at the airport, where federal law requires them in the terminal… 

BLEDSOE'S ANTI-VACCINE SHERIFF: Bledsoe & Marion County jails have not yet offered vaccinations for inmates. Bledsoe Sheriff Jimmy Morris: "To my knowledge, people has died everywhere from this vaccine" —— Wouldn't say where he got the info behind that (false) claim. 

 (He was arrested for a bar fight in 2012)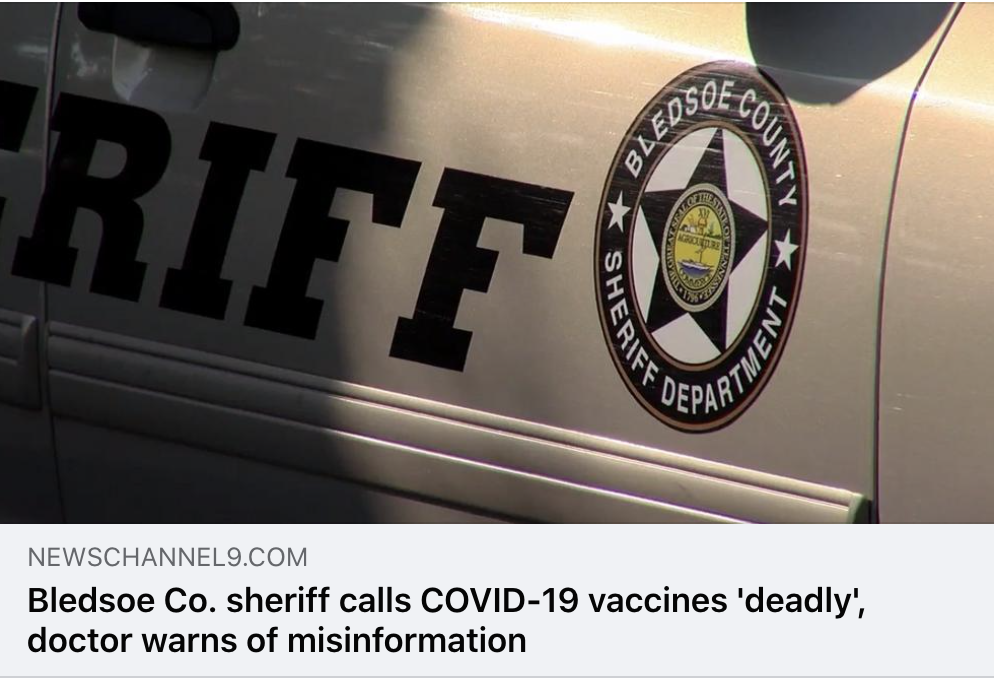 KIRK LOVES SINEMA: Trump sycophant Charlie Kirk calls Senator Kyrsten Sinema "more of a Republican than McCain" and praises her for preserving the filibuster, an anti-civil rights relic…. How proud you must be, Senator. What a ringing endorsement. #EndTheFilibuster

WILD, TRAGIC STORY: 60yo BETHPAGE, TN man wouldn't give up the handle @Tennessee…gets harassed & "swatted" (fake SWAT team emergency reported to his house) —he dies of a heart attack when they show up with guns… Another TN man got 5 years for his role.

SHAMELESS MCCONNELL: Despite right-wing misinfo obviously causing 
's vaccine hesitancy, McConnell blames BIDEN for the vaccination rate, saying "they inherited a good trajectory from Republican leadership." One of the most shameless things you'll ever see. 

CARTOON OF THE DAY 

GRAHAM'S GRANDSON HOSPITALIZED: Rev. Billy Graham's grandson, evangelical Pastor Jonathan Lotz, has been hospitalized with COVID-19. 

NASHVILLE: "A petition to have Metro Nashville Public School students mask up for the upcoming 2021-22 school year has just crossed 1000 signatures." 

LISTEN: "What a fraud… Trump got a shot in the White House during a pandemic and didn't tell anyone. That's not the President's job. You're a coward." – 

Rep. Cohen on the Daily Memphian Podcast says if upcoming elections are about Trump Dems will win.

STUDY: "States cutting unemployment benefits didn't get people back to work" – Seems Governor Lee & the TN GOP slashed $500 MILLION out of our economy for no reason. (bc they think unemployed Tennesseans are lazy)

WATCH: "JUST GET THE STUPID SHOT." – Florida mom who was against getting vaccinated and didn't take COVID seriously thanks to the right-wing misinformation engine changes her tune after nearly dying. 

FLASHBACK: "Remove the bust of the KKK Grand Wizard from our capitol!" Ashley King regularly protested the statue by being loud, and making those who kept it there uncomfortable. It's gone. We want to make sure we salute Ashley for his efforts… join us LIVE TODAY AT NOON CST WITH ASHLEY ON THE HOLLER.


 Please consider CHIPPING IN MONTHLY to help us grow… make it $10 and we'll send you a holler hat! (note your address on PayPal and
which color you want when you chip in) 
Now on CASH APP: $TNHoller


Thanks for reading! We're an independent, reader-supported site that depends entirely on you to help us keep holding our public officials accountable and "Yelling the Truth", so please consider chipping in a $3, $5, or $10 monthly and we'll keep telling the stories nobody else will:
https://tnholler.com/wp-content/uploads/2021/07/Screen-Shot-2021-07-27-at-1.05.20-PM.png
446
432
Justin Kanew
https://tnholler.com/wp-content/uploads/2019/01/TN-Hollerv5-300x172.png
Justin Kanew
2021-07-27 12:09:26
2021-07-27 12:09:26
TODAY'S HOLLER: "SELF-GOVERNANCE IS AT STAKE"